Ayahuasca Retreat Costa Rica 2023
Find your purpose, heal & discover answers in a serene Rainforest Retreat
From $1945  – $2990.00 per person depending on type of lodging (20% down payment to reserve)
An 8 day Ayahuasca Retreat offers a life transforming journey of self-discovery and healing. You will be in a space where you can let your guard down, be yourself and be accepted and loved for who you are. You do not have to feel like you have to be someone else to feel validated here.
While intentions can vary from person to person, the general goals are to:
gain a clearer understanding of yourself & find your purpose
find answers to any problems you may be facing
foster deeper and more meaningful relationships
heal from trauma and manifest peace for your soul
restore balance in your life
generally empower you on your life journey.
Everything is done safely in a harmonizing environment and in direct contact with nature.  A connection that has been diluted, and in some cases severed, by the modern lifestyle and technology. You will be in the care of experienced & empathetic guides who have performed several hundred ceremonies for thousands of people around the world.  Your safety and well-being is our utmost priority.

7  nights 8 days accommodations | All meals & drinking water
Intention Setting Guidance
2 Ayahuasca  | Sweat Lodge with Peyote | Bufo Ceremonies
Herbal Bath for cleansing and protection
Gentle and Grounding Yoga Classes | Guided Meditations | Breathwork

Welcome Dinner | Beach Day Picnic | Final Night Celebratory Dinner

 Inspired dishes and authentic local cuisine 

A Rustic Retreat in the Rainforest with modern amenities  including a pool overlooking the Rainforest & Caribbean Sea



It is a hallucinogenic brew made from the leaves of an Amazonian shrub. It has been widely known and used as an entheogen (revered plants used as spiritual sacraments) in sacred religious and shamanic practices by approximately 100 indigenous communities in the Amazon, spreading across Peru, Bolivia, Venezuela, Ecuador, Brazil, and Colombia. 
While it was traditionally used for spiritual purposes, it has become more popular for gaining insights and healing from your past. Modern science is also uncovering several health benefits that are leading to its increased popularity in the world of healing.
Feeling lost and unfulfilled is stressful and disruptive. It touches every aspect of your life including your career, relationships, and daily activities. The good news is the solutions lie within and you just need a way to uncover them. Often your truth is hidden because of:
past trauma

living a life that society or your family expects rather than what is right for you

distractions of a modern and noisy world

Connect with us to see if an Ayahuasca journey could be for you. Many participants report that the clarity and vision gained in one or 2 sessions replaces years of therapy and self-discovery. It can be a lightning rod of liberation and illumination of self, as it puts you in the mode to listen to your inner guide. 
Furthermore, our setting in the Rainforest naturally enhances your connection with yourself and puts you in the mode for reflection and healing.

For the last 25 years, we have hosted transformational retreats for those who seek purpose, are looking to heal, find answers or simply disconnect and destress.
We only work with highly experienced and well-trained guides who hail from a long lineage of the shaman, who will help prepare you and ensure a safe and effective experience. We also have a medical center with fully qualified doctors close by.
The effect of the serene and secluded Rainforest on healing cannot be overstated. Modern science has proven nature to be a powerful healer that quiets your mind and enhances your sense of wellbeing and opens your heart. 
This environment is ideal for healing because it provides a tranquil sanctuary for self-reflection, meditation, and mindfulness while preparing and after the ceremony.
Your safety is our top priority. You will undergo a strict screening process that will determine if you are the right candidate for this ceremony. The intensity of the journey is not for everyone, and it takes an experienced guide to determine who can safely go through the ceremony.
What others say about the retreat
"Everybody is just filled with love and support. Community. Made life long friends. And healing that you can never get outside of this. And not only that you have support through your healing journey. The shaman are magic. The staff are earth angels.
I have lived 40 years in pain.  And I now feel free."
Kim C
"What happened was indescribable. I always thought that i was going to die of a broken heart. But these shaman have healed me. And healed things that i did not know even existed in me. The experience really has changed the whole trajectory of my life. The place was mystical and the people enchanting. I made forever friends and cannot wait to get back."
Amy Jo
"Over the past 39 years i have been through so many different heart breaks and losses.  I came here because i wanted to truly do some deep healing.  I am leaving with everything I needed.  I asked for my heart to be healed and my heart is healed. I was able to actually let go. Forgive my body and see that my truth is beautiful and filled with a whole bunch of joy.  I not only got everything  I needed here but i am walking away with amazing friendships. I am an introvert and not a person who loves to mingle and connect and share my life story, but that just came naturally and everyone here was so opening for me."
 Julie
THIS is WHAT Ceremonies Look Like At Samasati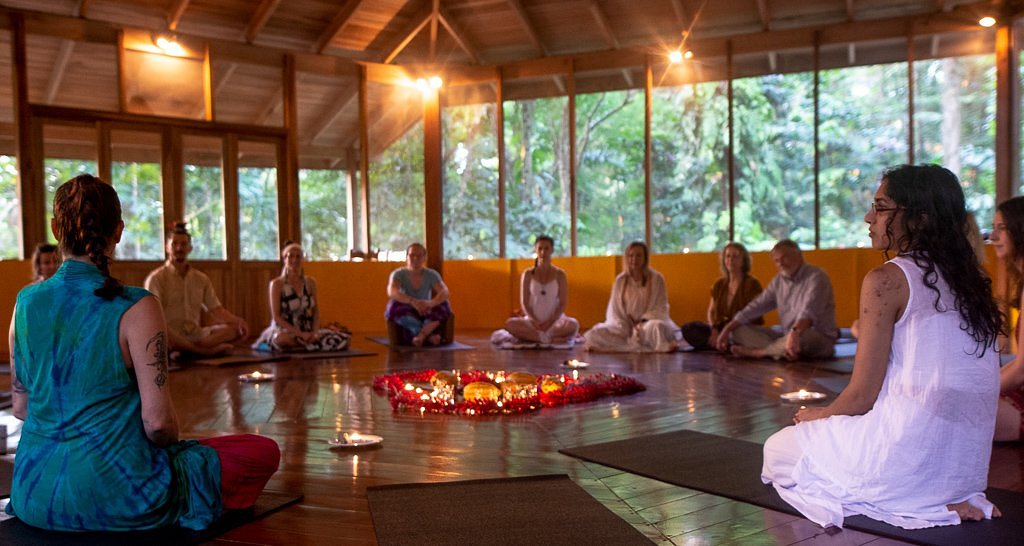 This journey to self-awareness through plant medicines is guided by caring and experienced masters of ceremony. Each day of this experience has been specially curated with guidance and activities  that provide support and nourishment for the journey of your lifetime. 
This plant medicine retreat will feature an Ayahuasca ceremony with additional ceremonial offerings of Wayra, Rape' and Peyote. Daily practices and meditations along with herbal baths and sweat lodge gatherings will help you prepare and integrate this intense experience of plant medicine ceremonies.
We organize ceremonies in a spacious, covered wooden structure surrounded by luxuriant flora.
During the ceremony, guests have their own mattresses, placed in a circular space, with their own pillows, blanket, and buckets in case the need to purge arises during the ceremony. 
There are bathrooms just outside the structure, and our facilitators are on call to help guests if they need any assistance.
We have 2 different types of accommodations to to suit a range of budgets and experiences:
Guest House Rooms are hostel style rooms with shared bathrooms (one for men and another for women.) and a shared terrace. Perfect for budget conscious travelers or those who are traveling with friends.
Casitas are little Caribbean style villas with their own private terrace with hammocks  and set in their own little garden with views of the Rainforest or Sea or both. Some have an additional bed in a sleeping loft.
All accommodations have fans and screened ventilation allowing for fresh air and Caribbean breezes. Also there are no TVs in the rooms so the sounds, sights and magic of the Rainforest immersion is pure.
Rooms at the Samasati Guest House
The Guest House is situated a short walk from the restaurant and reception area. It consists of 5 adjoining private rooms with two shared bathrooms, one for men and another for women. Choose from rooms with either two Single beds or one Double bed. This Guest House is a great option for solo travelers or groups of friends looking for cozy and inexpensive accommodations.
Features:
Private Room with two Single beds or a Double bed

Rainforest views, a terrace and lounge area with hammocks

Linen and towels provided

Fan (additional fans available upon request)

Laundry service at additional cost
Casitas
Sleeps two to four people
Ten wooden cottages built with wood reclaimed from the area within walking distance from the main reception and restaurant area. All have spacious verandas overlooking the Rainforest or the Caribbean Sea. Some have an additional bedroom in a lofted area above the main floor. The Casitas can accommodate two to four people. Beds are either King size, Double or Single size.
Classic Casitas
These Casitas are each in their own secluded area in the forest and have an additional lofted sleeping area. There are two Single beds on the main level and a Double bed in the loft, a private bathroom and a terrace with a hammock and is set in a little tropical garden planted with local flora.
Preferred Casita
These Casitas have windows that open to prime views of the Rainforest or the Caribbean Sea. Each of them is in it's own secluded area in the forest and has a King bed, a private bathroom, a quiet terrace with a hammock and is set in a little tropical garden with local flora. These Casitas are ideal for couples.
Features
Views of Caribbean Sea and Rainforest

Enclosed in its own secluded area within the retreat

Private Bathroom


Attached Terrace with Hammocks (additional hammocks available upon request)

Linen and towels provided

Ceiling fan (additional fans available upon request)

Laundry service at additional cost
Ronit
Ronit is a gifted Yoga and movement teacher and gently helps participants maximize the benefit of the plant medicines through conscious movement and breathwork. Ronit also shares her knowledge of deep juice cleansing and other transforming detox tools.
As a dedicated Moon Dance practitioner, she practices this beautiful prayer ritual of the Mexican tradition. The Moon Dance gathers women from all over the world during the full moon. T. The tobacco spirit accompanies the sacred prayer dance and lasts four-night while the men hold and protect the space. At Mundo Gente Medicina, Ronit shares with us the purifying Temazcal sweat lodge ceremony that is an integral part of the Moon Dance ceremony.
Josue
Josue found his path in life in the meeting of music, medicine, and integration. His journey started as an apprentice during Ayahuasca retreats with a gifted Peruvian Medicine Woman. He soon was given the responsibility of holding ceremonies and retreats himself. His journey continued when he embraced the traditional Lakota Vision quest, a ritual of prayer, fasting, and isolation in nature.
From the assimilation of these various experiences, the vision of Mundo Gente Medicina was born. A place where seekers can encounter these beautiful and different traditions and experience their medicines and healing tools. And as a gifted musician, Josue guides participants in their inner work with music and song that supports the healing journey.
Josue also gives great importance to the process of INTEGRATION, where the powerful knowledge gained through the work with the medicine and tools can be assimilated into our daily life. Josue offers sacred medicine coaching so that participants can keep the teachings alive once they return home.
Stephanie McKenzie
I sought refuge from a very early age in the quiet moments within a child pose held in a dark closet.  I found freedom in losing my way in the forest.  I've felt the vastness of diversity while floating upon the warm sea.  I gained clarity from moments of silence that stretched for days and then years. I understand the shifting nature of the human mind because it was a matter of life and death to the youngest version of me. I've learned that nourishing and caring for my body, mind, and soul is an obligation I accepted at birth. 
I have formally immersed myself in the study and practice of Sankhya philosophy, Yoga, Ayurveda, Curanderismo, Mindfulness, Herbalism, Nurat Boran, Classical and Ecstatic Dance, and Vipassana Meditation.  I have led countless students through the practices I know to be helpful.  I have guided numerous ceremonies honoring moments in lives that are all too fleeting. I've told a few of my stories to expose my vulnerability. I have held many of them back to protect the nativity of the listener. I've danced with my darkest shadows and made them my friends. Embracing my pain has been an iron rod in my life.  I've made my weaknesses my strengths.  Only to be brought humbly to my knees a washed with the sudden awareness that I am the cause of someone else's suffering
I am experienced at curating and facilitating life-changing experiences. I utilize ancient healing practices and modern science to bring truth to the surface of consciousness. Then with loving kindness and unconditional acceptance, I deny you the opportunity to return to your shadows.  Then I'll remind you how to play. I'll remind you how to talk to the trees. I'll remind you how to listen.  I will listen to you. I will see you. I will understand your perspective.
Then I will slip back into the jungle and return to my personal path towards healing. The karmic unfolding of a body suspended for a lifetime in the degenerative pool of stress hormones is full of physical suffering.  A mind developed in deceit and uncertainty will begin to deteriorate.  A soul deprived of love and attention will wither. A lifestyle dedicated to learning to love yourself can rejuvenate a mind, body, and soul.  A discipline of self-care and conscious awareness will lead you to the shores of tranquil ease.
I am a lightning rod for chaos.  When you cross my path, you are in the midst of a personal transition. I know this with unabashed certainty. In the times of my own chaos, I have trained myself to extinguish my own voice to allow for the supreme self to be heard within the hum. I have inked into my skin a daily reminder of the message received when I truly paused. When I truly listened. I am a lightning rod for chaos. When you cross my path, you are in the midst of a personal transition. We have been brought together to learn from each other.  I will remind you how to listen.  You will remind me how to hear.