Pura Vida Immersion
With Nate Amado
September 19 - 25, 2020
THE OHM COSTA RICA RETREAT
Imagine a week immersed in 
PURA

 VIDA – beautiful greenery, beaches, and waterfalls all around – moving and grooving with a tribe of 

like-minds

.
You'll learn how to move your body with skill and with grace, how to be strong to be helpful, how to defend yourself and others, how to win the morning so you can win the day, how to breathe for relaxation and for energy, how to sharpen your mind for ultimate clarity, and more.
You'll move with PURPOSE, explore the lush Nature all around you, and adapt your new skills to the real world. Challenges will be overcome, and growth will be had.
You'll get to enjoy the best of what life has to offer in the jungles of Costa Rica, from sunrise to sunset.
WHAT'S INCLUDED
7-days/6-nights immersed in Pura Vida with full accommodations provided by Samasati.
Your choice of Classic Casitas to share with the tribe for the week or a Preferred Casita for just you and/or your partner. If you're traveling with a partner/friend, let us know and we will book you together
Stay at a nice hotel near SJO airport for the night before and after the retreat (18th and 25th) to help ease the stress of travel. Transportation to/from airport and breakfast included. Relax, we got everything taken care of.
Shuttle bus transportation from hotel to the retreat center, and back at the end of the retreat (~4 hour trip).
"Rising Rituals" first thing every morning – guided morning routines that set your day up for success. "Win the morning, win the day!"
Daily movement sessions – practical, natural, human movement skills based on the motto, "Be strong to be helpful."
Daily breathing exercises – all movement starts with breath. Learn breathing techniques for calming, for warmth, and for energy.
Daily mindfulness practices – everything starts in the mind. "Strong mind, strong body"
Movement exploration – adventure, application, and adaptation. Apply your new skills to the real world.
Cold immersion – overcome mental barriers and rapidly boost your inner strength (optional).
Practical self-defense based on MovNat Combatives and Jiu Jitsu (not sport) – principles, mindset, and techniques.
"Open mat" style Jiu Jitsu training/rolling (optional).
Farm-to-table, local/sustainable/organic food. Buffet style meals for breakfast, lunch and dinner daily (paleo, raw, vegan, dairy-free, and/or soy-free available). All delicious and nutritious.
Costa Rican coffee, tea, and cold-pressed fruit juices.
Guided nature treks – experience the real Pura Vida of Costa Rica
Waterfall exploration – soak in nature's power and glory.
1-hour massage – unwind your body and mind. Relax and reset.
Free time to explore and experience whatever you desire.
Leader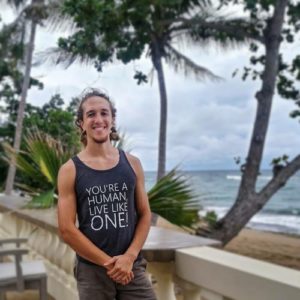 Nate Amado
Hey humans! I'm Nathan "Natural Nate" Amado, Founder and Prime Mover of Original Human Movement. I help health conscious humans unlock their bodies and so they can step boldly into ANY adventure and live life pain free! I'm a MovNat Master Trainer (Level 3, Aquatics, and Combatives Certified) and Online Coach, Primal Health Coach, Brazilian Jiu Jitsu Purple Belt & Coach, and a Scout of The Human Path. I also integrate what I've learned…
Learn more about Nate Amado