Shamanic Journey with Ayahuasca
With Stephanie McKenzie and Karen Gordon
June 24 - July 1, 2023
Find your purpose, heal & discover answers in a serene Rainforest Retreat
Samasati's 8-day Ayahuasca Retreat offers a life transforming journey of self-discovery and healing. You will be in a space where you can let your guard down, be yourself and be accepted and loved for who you are. You do not have to feel like you have to be someone else to feel validated here.
While intentions can vary from person to person, the general goals are to:
gain a clearer understanding of yourself & find your purpose
find answers to any problems you may be facing
foster deeper and more meaningful relationships
heal from trauma
generally empower you on your life journey.
Everything is done safely in a harmonizing environment and in direct contact with nature.  A connection that has been diluted, and in some cases severed, by the modern lifestyle and technology. You will be in the care of experienced & empathetic guides who have performed several hundred ceremonies for thousands of people around the world.  Your safety and well-being is our utmost priority.
But can a week in the Rainforest deeply immersed in indigenous medicines heal you from your past traumas?  It all depends on you. If you are ready to do the work that comes with knowing that you are the one who is coming to save yourSelf.
What others have said about their experience
Everybody is just filled with love and support. Community. Made life long friends. And healing that you can never get outside of this. And not only that you have support through your healing journey. The shaman are magic. The staff are earth angels.
I have lived 40 years in pain.  And I now feel free.
What happened was indescribable. I always thought that i was going to die of a broken heart. But these shaman have healed me. And healed things that i did not know even existed in me. The experience really has changed the whole trajectory of my life. The place was mystical and the people enchanting. I made forever friends and cannot wait to get back.

Over the past 39 years i have been through so many different heart breaks and losses.  I came here because i wanted to truly do some deep healing.  I am leaving with everything I needed.  I asked for my heart to be healed and my heart is healed. I was able to actually let go. Forgive my body and see that my truth is beautiful and filled with a whole bunch of joy.  I not only got everything  I needed here but i am walking away with amazing friendships. I am an introvert and not a person who loves to mingle and connect and share my life story, but that just came naturally and everyone here was so opening for me.
You will be called when the time is right for you
When the time is right for you to take a closer look at the inner workings of yourSelf, consider joining us under the Rainforest canopy for a guided journey with Ayahuasca. A journey with Ayahuasca is never scripted with a predictable outcome.  It brings you where you need to be, not necessarily where you want to be at the moment. There you will find the pieces of yourSelf you have hidden away. The ones that need your love and compassion the most. Ayahuasca will bring your truth to the surface.  Sometimes she is gentle and sometimes she is not.  Your experience will be the medicine you need at this moment.
We will be there to support you with watchful eyes filled with compassion and understanding.  We have traveled this path to ourselves before.  We know the twist and turns of the road you wish to follow. We know what it feels like to have a deep desire to shed the delusions of Self we have collected over our lifetimes.  We know how scary it can be to release what is known even when it is to allow for more beauty and more love.
During this retreat experience you will receive the following included in your registration:
7 nights' Accommodations
Three vegan/vegetarian meals each day
Unlimited drinking water, coffee, hot chocolate and tea
1 Ayahuasca Preparation Guide
1 Post Ceremony Integration Guide
2 Guided Ayahuasca Ceremonies
4 Guided Yoga Classes
1 Guided Breathwork Sessions
1 Guided Meditation Sessions
1 Day trip to Beach with Picnic
*Your choice of either a Mala Making Workshop or a 90-min Massage
The itinerary below is a sample of how the retreat will unfold.
24

25

26

27

28

29

30

1

5:00am

Day Break

Fruit, Hot Tea, Coffee, Juice

7:00am

YOGA

Sala del Sol

YOGA

Sala del Sol

YOGA

Sala de la Luna

YOGA

Sala del Sol

8:00am

Breakfast

Breakfast

Breakfast

Breakfast

Breakfast

Breakfast

Breakfast

10:

00am

Salt Baths

Punta Uva Beach

Breathwork

Sala de la Luna

EAT

SLEEP

EAT

SLEEP

Malas or Massages or Playday at the Beach

Malas or Massages or 

Playday at the Beach

Onward Journey

1:00pm

Lunch

Lunch

Lunch

Lunch

Lunch

Lunch

Lunch

5:00pm

Opening Circle with YOGA

Sala de la Luna

Meditation

Sala de la Luna

3:00pm

Herbal Baths

Terrace

5:00pm

Ayahuasca Ceremony

Sala del Sol

REST

5:00pm

Ayahuasca Ceremony

Sala del Sol

3:00pm 

Closing Circle

With Cacao Ceremony

Sala del Sol 

Fare

the-Well Dinner

7:00pm

Welcome Dinner

Dinner

Midnight Soup Social

Dinner

Midnight Soup Social

Dinner
We are honored to share space with the ecologist and medicine woman, Karen Gordon of the Center for Sacred Ecology.  Karen is a light-filled being whose authentic joy permeates the air around her. She brings a lifetime of inquisitive study and practice to the ceremonies she leads.  She has been carefully guided by Peruvian Maestros who saw within her a unique vessel to carry forth the medicine of the jungle. Karens path as a dedicated student of plant medicine has brought to the feet of Peruvian maestros including her primary teacher Don Carlos Chavez.  Karen is steeped in the Peruvian Mestizos tradition and lineage that is held be Don Jose Campos.
Last year when Don Campos was imprisoned in Mexico City, Karen mobilized the plant medicine community of Costa Rica into action. From those actions and with the help of the International Center of Ethnobotanical Education and Services (ICEERS) the La Alianza Plantas Sagradas (The Sacred Plant Alliance: LAPS) was founded.  LAPS aims to protect the plants and their keepers while increasing awareness of best practices and standards in the plant medicine community in Costa Rica.
**Engaging with these medicines is a serious decision.  We encourage everyone to fully educate themselves on the effects Ayahuasca can have on individuals.  Discuss any medications you are taking with your doctor to decide if Ayahuasca is right for you.
Leaders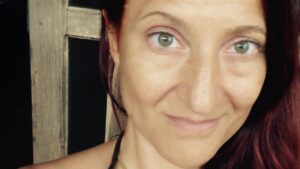 Stephanie McKenzie
I sought refuge from a very early age in the quiet moments within a child pose held in a dark closet.  I found freedom in losing my way in the forest.  I've felt the vastness of diversity while floating upon the warm sea.  I gained clarity from moments of silence that stretched for days and then years. I understand the shifting nature of a human mind. I've learned that nourishing…
Learn more about Stephanie McKenzie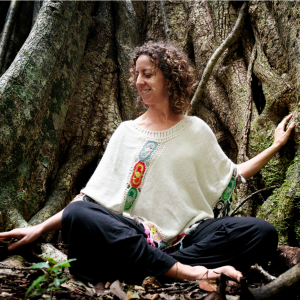 Karen Gordon
Equal parts soul-filled scientist, inspired educator, holistic therapist, wilderness rites of passage guide and mountain medicine woman, my roots dive deep into an ever-evolving understanding of how history, heart, energy and mystery work in concert within the habitat of the human form. My attention is drawn to the subtle spaces where mind, body, spirit and stories intersect upon the unique landscape of our lives. With a 30-year career as a…
Learn more about Karen Gordon