Peyote Heart Retreat
With Modesto Rivera Lemus and Kiany Brown
August 11 - 17, 2023
Peyote Heart Retreat is a healing journey to check on your inner self. We offer a safe space in the heart of nature to open up and scan your deep unconscious programming to see what you carry and allow yourself to decide what you choose to keep and let go of what no longer serves your divine purpose.
We will provide a safe space to learn different self-awareness tools to take with you after this beautiful experience that will help you in your integration process. During these 6 days we will understand and work with the grandfather Peyote who will help us reconnect and rediscover our true nature from the ancient wisdom and knowledge of this plant and with the guide of Maracame Modesto.
Peyote is an entheogenic cactus, that is, a plant that gives birth (gen ) to god (teo) inside (in), this beautiful cactus is born in the desert of central Mexico, a sacred place called Wirikuta. The Wirrarika people are the guardians and protectors of this plant and its knowledge. By consecrating with this beautiful medicine during ceremonies it helps us to have better health, clarity in life, to purify ourselves , helping us with the awakening of our self-knowledge and to expand consciousness, vibrating in love and well-being, so that in this ceremony we have the great opportunity to pray for our lives, families, health, work, or what each participant needs.
The ceremony lasts all night. The Marakame plays his sacred songs 5 times during during the ceremony. While he plays these songs, everyone is asked to return to their places and be silent listening to the song; since this moment can bring visions and it is possible for the person to enter into greater introspection. In general, during the ceremony it is preferable to remain silent and still, this benefits the work of medicine and gives strength to your prayer.
Each participant will have a candle that represents the light of our hearts it will be places in front of you with your special individual altar which you will create with your own spiritual objects.
Songs and prayers can be offered during the ceremony; the Marakame will let us know when the right time is to
share our songs. The prayers can be done silent, but it is recommended to do it out loud; since it gives more power to the prayer, and at the same time this can help other people in their healing process.
Each one will keep their candle. To continue with the integration process in the next days you will turn on your candle for the next 5 nights, at dusk and off at dawn. Place it in a safe space in the room where you sleep, and  during the day you turn it off by saving the light ( we will show you how to turn it off properly). If there is still wax left on the fifth day, let it burn until it finishes. This process helps to continue with the work trough dreams.
During these days it is recommended to stay in a state of simplicity and awareness and to pay close attention to your dreams.
What is Included
Two traditional peyote ceremonies
One sweat lodge
Guided breathwork, meditation and
grounding experiences
Beach day
Waterfall day
Local nourishing cuisine
Airport shuttle pick up and departure.
Leaders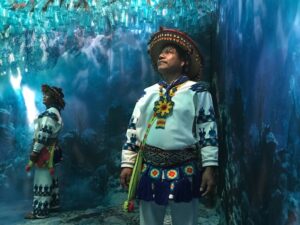 Modesto Rivera Lemus
Modesto Rivera Lemus is a Wixarika medicine man, he heals with his music he plays the traditional violin. He is a traditional artist from the State of Nayarit in Mexico were he was born and raised. From a young age until now he continues the sacred path of service to his ancestors between the artistic and musical expressions in ceremonial and cultural gatherings. As a Marakame, he is a channel…
Learn more about Modesto Rivera Lemus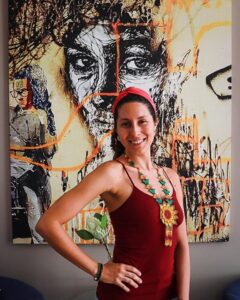 Kiany Brown
A local medicine woman from the Caribbean Coast in Costa Rica,  She started her healing path at the age of 16 when she had a shift through improving her diet and deepening her connection with mother nature, with the help of the traditional sweat lodge ceremonies and with the guided peyote ceremonies. Both have been great tools to soften her heart, forgive, heal and recharge with the light she's needed…
Learn more about Kiany Brown