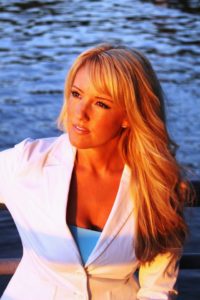 Debbie is a mom, a yoga teacher, a business owner, a lover of life, and an artist of the word who derives energy, fulfillment, joy and happiness from watching others begin to discover that the life of their dreams is within their grasp. As a yoga teacher and a guide, she reminds people how to view life as a series of miracles unfolding. Her teachings are strongly rooted in the foundation of "Stepping outside of your comfort zone," with the belief that life is meant to be enjoyed. Debbie's mission is to ignite spiritual health in others and remind them that it is their divine birthright to have extraordinary abundance in all areas of their lives, freeing them to live their life on purpose, filled with passion..
Her teachings come in the form of her books, life-coaching, yoga classes, workshops, seminars and retreats. Her primary focus is to get people to take back ownership of their lives, to remember that life is just a series of choices and most of our choices stem from our beliefs , which tend to be formed by our thoughts. With her methods you can once again become aware of your thoughts and notice how they make you feel. You will filter through your beliefs releasing those that are no longer serving you and replacing them with more empowering beliefs that can assist you in cultivating a life of happiness!
In Debbie's teachings happiness comes when you understand your form of "currency." By "currency" she isn't referring to money. Her currency has always been the letters, thank you notes, emails and testimonials from people who have had life-changing experiences through her guidance. She is only satisfied when she sees that shift, that flicker of light in the eyes of the audience that says, they have connected with a renewed energy or zest for life!