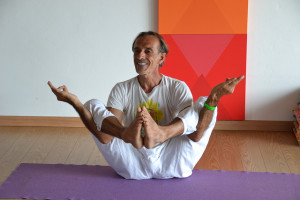 Since an early age Max felt attracted and influenced by the vision and teaching of Mystics, Masters and Yogis like Rumi, J.Krishnamurti, G.I. Gurdjieff, R. Tagore andP. Yogananda, among others, which shaped the spiritual path to follow. By the age of 20 was traveling to India where he spent several years in the Osho Rajneesh Commune, participating in many workshops, seminars and meditations influenced by the Eastern and Western spiritual traditions, deepening the practice in the Jnan, Bhakti and Karma branches of Yoga. Extensive travels throughout India, Nepal, Sri Lanka, the Middle East, North Africa as well as the Americas, Australia and Europe brought him in contact with different spiritual paths widening the spectrum of ways in the quest of Human Consciousness Growth. In the mid 90'ies, Max co-founded and contributed in the creation and realization of Samasati Nature Retreat, a Sustainable Ecological project in the South Caribbean rainforest of Costa Rica, where workshops, retreats, seminars and teacher training programs have been held ever since.
Inspired by gifted teachers like Glenn Black, among others,  over the last 17 years Max ventured into the journey of the practice and study of Hatha Yoga and styles like Ashtanga, Iyengar, Kundalini, and Yin.  Attending classes, retreats and teacher trainings in Costa Rica, U.S., Italy and Australia, Max got certified in the oldest school of Byron Bay, under the guidance of John Ogilvie.  A promoter of Purna Yoga, Th practice represents a holistic approach to Yoga, integrating the postures, philosophy, pranayama, meditation, discipline and code of ethics.
Max is currently the coordinator of the residential courses in Costa Rica where he lives and holds workshops and teaches private and public daily classes at the Samasati Retreat and Rainforest Sanctuary, where he combines a wide repertoire of Asanas and sequencing with Pranayama, meditations, talks… and fun. The emphasis here is that the Yoga on the mat can be a great pleasure, and off the mat an amazing blessing.
Yoga is for everybody, Yoga is non-discriminant, Yoga is Union, All is One.