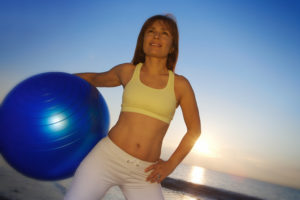 Lila Ristevska (Lil) is a retired Olympic Level Freestyle Wrestler that competed in Olympic trials representing Australia and Macedonia, her countries of origin. She has 20 years experience as a Fitness Personal Trainer and is a Certified Yoga Instructor as well as a National Strength and Conditioning Coach. Lila is the creator of the OzzyBall System, which provides superior strength, flexibility and endurance. She lives in Palm Beach, Florida and enjoys morning walks on the beach. Lila laughs easily and often.
Founder of the OzzyBall and the OzzyBall training system
Bachelors Degree – Applied Science (Physical Education)
Associate Diploma- Applied Science (Fitness Leadership)
Fitness Institute International (CPT)– Dr Abbott (Florida)
Over 20 years experience in Personal Training
15 years Australian Wrestling Champion (1991-2004)
Olympic athlete for Australia and Macedonia
Specialize in – Core Strength
Yoga Instructor
Gyrokinesis instructor
NLP- Neuro Linguistic Programming
Access Consciousness
Proficient in- TRX, Boxing, Brazilian Jiujutsu, Judo, Olympic Lifting, Kettle Bells, Reiki, Touch for Health.