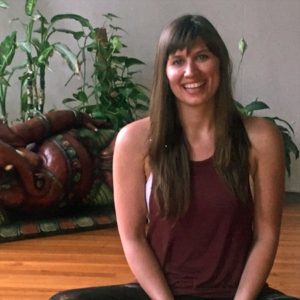 Jocelyn initially began practicing yoga as a means to reduce stress and cultivate mindfulness, although she quickly became drawn to its spiritual and healing powers.  Having discovered a connection with Spirit through hikes in the woods and swimming in the Adirondack lakes as a young girl, Jocelyn is grateful to be able to deepen this relationship through the power and teachings of Bhakti Yoga.
As a 200-hour Registered Yoga Teacher trained by Gopi Kinnicutt, Jocelyn aspires to nurture her students' awareness of their true Self.  Her vinyasa flow style uses organic movement and thoughtful sequencing, with emphasis on the connection between breath and body, to create a powerful moving meditation.  Her gentle, calming energy helps create a supportive environment for students to let go of perceived limitations, invite space for transformation, and rediscover the innate wisdom and grace that exists within each of us.
Jocelyn is also Reiki I and II certified under the lineage of Dr. Usui, trained by Anne Cameron at the Ayurvedic Center of Vermont.  Her approach to healing is gentle and filled with intentions for your highest good.  On and off the mat, she meets each student where they are, with equanimity and ease.