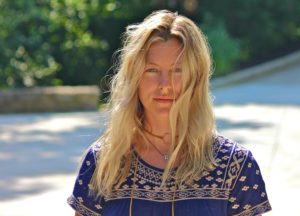 Ashley Hunt is a minimalist that lives in an off the grid tiny home built in a school bus. Her partner and wolf dog call Red River Gorge, Kentucky home and own and operate a desktop carbon filament winder company together. They are avid rock climbers and spend as much time in nature as life allows. She is currently writing her first book a creative collaboration with her professional photographer sister.
Corporate Mindfulness Consultant
Facilitating meditation, applied mindfulness and contemplation sessions with corporate marketing and design teams to change the conversation that frames how the maker and the consumer relate to the product. Let's get out of the head and allow the heart and body to be heard.
E- RYT 500
Ashley previously owned YogaHome, studios in the city of Cincinnati, Ohio. She was the Program Director of 9month-12month contemplative life study programs.  Ashley has her Bachelors of Arts in Hinduism and Buddhism from Trinity College, CT. She continued her graduate studies in an Individualized Masters of Arts program with a concentration in Consciousness Studies and Transpersonal Psychology. Ashley has also studied yoga therapy at Krishnamacharya Yoga Mandiram, Chennai India.
Urban Zen Integrative Therapist
Ashley worked with the Urban Zen Integrative Therapy Program in New York City at the Urban Zen main offices in the west village. She has also contributed to
UZIT programs over seas in Port-au-Prince, Haiti. She has shared the Urban Zen work in NYC radiation centers, eating disorder recovery centers, private client settings, yoga studio workshops and on the University of Cincinnati Cardiology floor. She teaches restorative yoga and Urban Zen workshops nationally.
Ashley's Website – www.livelightlyyoga.com