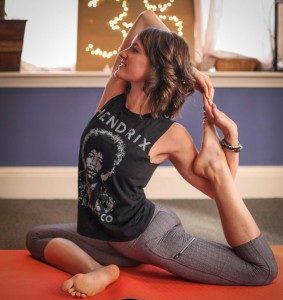 Loren (E-RYT 200, LMT CT#8835), is known for her unique style of teaching that seamlessly incorporates the physical benefits of yoga with its meditative and spiritual aspects as well.
sincere desire to allow each student to make the most of their time on the mat is conveyed in every class she teaches. Her Vinyasa (or Flow) style classes encourage yogis of all stages of practice to compassionately and intuitively explore the space beyond their "comfort zone" to experience personal growth and certain transformation. Listen to your breath, become aware of your body, explore your edge, enjoy restoration, and find your flow!
Appreciating the physical, mental, and spiritual aspects of yoga, Loren does her best to live her yoga on and off the mat; through an awareness of healthyeating, mindfulness of the world around her, and by sharing kindness and compassion with all beings. Always with a "beginner's mind" she continues to learn more about her own practice through the guidance of amazing teachers (Jack Lynch, Stephen Cope, Rolf Gates, and Angela Phillips, to gratefully name a few) and through her daily yoga practice.
Loren has continued to teach at yoga studios and fitness facilities throughout Connecticut since 2010, and has had the honor of assisting Stephen Cope in workshops at the Kripalu Center for Yoga & Health. Teaching is Loren's way to share the abundance of gifts that yoga has to offer and to create a space where fellow practitioners can come, let go of their day, and find their natural FLOW!