Seva Adventure Yoga Retreat
With Caroline Cooley and Rebecca Niamtu
February 4 - 9, 2019
Come Play With Us Where The Jungle Meets The Sea and Magic Abounds!
All you have to do is get to San Jose Costa Rica and we've got all the details covered from there!  Arrive anytime on February 3rd at SJO, and we will have airport transfer arranged for you.  We will be spending  our first night at Adventure Inn, in San Jose.  We love Adventure Inn!  This allows everyone to arrive at their leisure, and it is a nice transition into Costa Rica.  The next morning we will be heading to the Jungle !! It is a 4.5 hour drive to the southern Caribbean side of Costa Rica, and totally worth it!  We will be in comfy air-conditioned vans with wi-fi, and this gives us a chance to see the country on the way. We will be staying near the town of puerto viejo in  the Limon region, where we will  immerse our selves in the pura vida culture.  Although the region is still mostly indigenous people, the town of Puerto Viejo is a bustling tourist destination home of the world famous surf break, Salsa Brava.
Yes! We really are staying in the jungle!
We will be staying the next 5  nights at Samasati, an enchanted  rainforest  preserve situated high up in the jungle, over looking  the Caribbean Sea.   The magic you feel here can't be put into words, It is something you have to feel for yourself.  It changes you, being so close to nature, because its our natural state of being that  feels familiar and long lost all at once.  Because we will be so close to the equator we will enjoy 12 hours of daylight every day, waking each morning to the sound of howler monkeys! We will learn about all the life in the rainforest up close and personal!  You will have lots of options each day from laying in the hammock and just being present, laughing with your new and old friends, or zip-lining through the jungle. Karma or yoga in action  opportunities will also be available, because we love giving back to the people of the region!
Prepare to be spoiled, the meals at Samasati are simply out of this world!  3 Plant based, locally sourced , gourmet meals daily will be served buffet style. Meal time is special, because it's all prepared for us, we can all sit together and appreciate the moment.  Water, tea, and coffee are also included. Coffee runs on tap all day at Samasati and we all love our Costa Rican coffee! Beer and wine will be available by the glass or bottle for purchase if you would like wine with your dinner as well.
Daily morning and evening yoga exploration and meditation offerings led by Becca and Caroline, suitable for beginners or advanced students. If you are new to yoga this is a perfect way to dive In!  If you've been practicing  for a while this is a wonderful opportunity for refinement. You will not be required to stand on your head, but if you'd like to learn, we will be happy to help! Remember this is your retreat, all classes are optional!
Leaders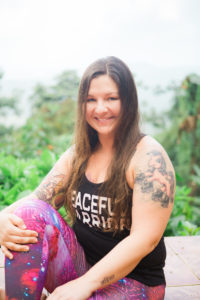 Caroline Cooley
Caroline's love for yoga began over 12 years ago. She practiced on and off for years. In her personal practice she has found yoga to bring healing and self-acceptance on a level she's been unable to find in any other way. In 2015 she decided to pursue her 200 hour RYT, which allowed her to deepen her own practice and tapped into a deep calling to share this healing and…
Learn more about Caroline Cooley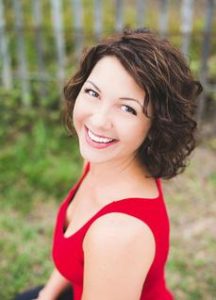 Rebecca Niamtu
Rebecca Niamtu wants to bring the community together on their yoga mats with the intention of healing the planet from within. Having experienced the tremendous healing power of yoga, and the ripple effect through her life and community, it is her desire  to make yoga accessible to everyone. Teaching yoga since 2008, her approach to yoga is unintimidating, heartfelt, and playful. Influenced by Anusara traditions, Becca's style is both grounding and…
Learn more about Rebecca Niamtu