The Flow Bootcamp for Leaders
With Xavier Bronlet
January 25 - 30, 2020
Providing time, space, care and tools to enable executives to reconnect to their inner self and reconcile their body, mind and spirit to experience a flow state in their professional and private lives. The boot camp provides the participants with a unique setup to their effervescent routines to leave space for new habits and perspectives and embrace with grace the VUCA (Volatility, Uncertainty, Ambiguity and Complexity) as a leader.
The Flow Bootcamp for Leaders
Second Prime Renaissance "SPR" at Samasati Yoga and Wellness Retreats
Costa Rica's Southern Caribbean
August 22 – 27 (5 Nights)
All-Inclusive
The World is VUCA,
Volatile, Uncertain, Complex and Ambiguous.
Target audience:
Executives from all sectors are welcomed to take part in the boot camp. The diversity amongst participants is a richness that enables cross-fertilization within a secured container. The program has been designed to help the executives who feel trapped in their context and are searching to break their glass ceiling to unleash their potential and experience flow state in their private and professional life.
What makes this bootcamp for leaders unique?
⦁ Immersive and personalized in a stunning location in the middle of the Costa Rican rainforest.
⦁ Re-connect with yourself as body, mind and spirit through workshops, yoga and self-care in a distinct environment.
⦁ Learn about the latest findings in neuroscience to understand your behaviors as well as others'; use this learning to hack some of your habits.
⦁ Explore your personal intention and vision to clarify your mission and ambition; translate this learning into actionable steps that ignite your full potential.
⦁ Discover your specific vibrancy and translate this learning into flourishing your outer core and enhance your charisma as a leader.
⦁ Exit with a full Individual Leadership Development Plan and Roadmap for leveraging your leadership gifts.
⦁ Complete the immersive experience with Xavier Bronlet's proprietary post-retreat private coaching sessions (optional).
⦁ This 5-day retreat includes transfer from San José airport, 5 workshops, a pre-boot camp assessment and an Individual Leadership Development plan, 2 individual coaching sessions with Xavier Bronlet, tools and resources, all program materials, 5 yoga sessions, 5 meditation practices, 2 massage sessions, organized tours and all organic meals, with 24 hours assistance.
  Acceleration Lab in Partnership With  Second Prime Renaissance "SPR"

Early-Bird Booking Discount, Until May 31, 2019
Limited Booking, Only 12 Seats Available
Book NOW, This Retreat Will Sell-out Fast!
Includes:
August 22 – 27 (5 Nights)
Air Transfer R.T. from San Jose to Puerto Viejo
Lodging (Preferred Casita) Ocean View, Premium Accommodation
Daily Meals, with Day 5 Dinner at Koki Beach Restaurant
Does not Include Overnight Stays (arrival & departure) in San Jose
Massage Therapy
Yoga and Meditation
Caribbean Nature Tour
Nature Hike
Systemic Agility Program and Support
All-Inclusive Rate, $6,282.80 – Complete Pre-booking Package, available upon request.
Acceleration Lab Testimonials
MA (Managing Director HR company): "Thanks to the Systemic Agility development program, we've been able to upgrade the key habits that enable us to keep serving greatly our clients in an effervescent business."
DM (COO Software as a service company): "My individual coaching program with Xavier helped me to reconnect with myself, discover a new me and obtain much more than the initial objectives defined at the beginning of the process."
BL (Test manager in a Swiss bank): "The behavioral agility development program has significantly helped the unit and myself to build and develop collective intelligence; proof of this are the multiple positive feedback we receive from all our stakeholders."
"We promise a transformative experience."
Sample Schedule August 22 – 27 (5 Nights)
Day 1
Morning Yoga & Meditation, Orientation of your experience, Workshop – "Transformation Path", Afternoon Massage Session

Day 2
Morning Yoga Meditation, Workshop – "Neurosciences for Leaders", Afternoon Rainforest Therapy – Hike
Day 3
Morning Yoga & Meditation, Workshop – "The Grounding of Habits", Waterfall & Chocolate Factory Tour, Dinner Outing
Day 4
Morning Yoga & Meditation, Workshop – "The Transformation Path II", Free afternoon.
Day 5
Morning Yoga & Meditation, Workshop – "Development Plan Review", Afternoon Massage Therapy, Group Dinner Outing
IT'S ALL ABOUT YOU!
---
Leader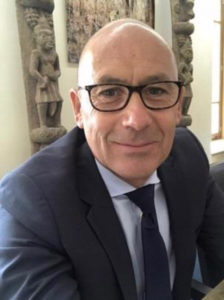 Xavier Bronlet
With 20+ years of Change Management experience in the Financial Industry in Europe, Xavier has built strong competencies in Organizational and People Development. Nowadays, Xavier's practice is mainly based on the latest findings in the neurosciences, behavioral science and psychology to support individuals to embrace change. To support the Organizational Development, Xavier has built a framework, called Systemic Agility, to measure and flourish the business agility within the organizations. With…
Learn more about Xavier Bronlet