Inner Flight Retreat
With Maestro Francisco, Maestra Tessy, Rey, Sandra Tentiu and Robert Tentiu
January 15 - 22, 2023
Inner Flight Retreat is a healing, centering, nourishing retreat journey. Our intention of this retreat is to guide participants to a clearer understanding of who they are and what they need to expand further on their journey, empowered, supported and activated in their powers and abilities.
Through Inner Flight Retreat we will share practices, ceremonies and activities designed specifically for deeper understanding ourselves and bringing more balance to our lives with the help and guidance of Mother Nature. 
Inner Flight Retreat offers a 7 days Plant Medicine Retreat to experience, in a beautiful rainforest sanctuary, located  in a lush rain forest. We provide a safe and high energy environment, that promotes healing and deep activation during your stay. Everything is done in a harmonizing environment and in direct contact with nature: the main protagonist and with whom we all need to reconnect.
Traditional Shipibo Ayahuasca Ceremonies  (3)
Breath Work & Guided Meditation
 inspired dishes and authentic local cuisine 
Comfort of a classic retreat with modern amenities 
Airport Shuttle pick up and departure
Ayahuasca, a powerful tool
Ayahuasca plant medicine can serve as a powerful tool for healing, as well as spiritual and emotional growth.
At Inner Flight Retreat, safety, well-being, and healing is of utmost importance to us, and our main goal is to ensure each person gets the most out of an experience with us. Our aim is to create a safe and supportive environment encompassing all aspects of the healing process.
Ayahuasca is a plant medicine that has been widely known and used as an entheogen (revered plants used as spiritual sacraments) in sacred religious and shamanic practices by approximately 100 indigenous communities in the Amazon, spreading across Peru, Bolivia, Venezuela, Ecuador,Brazil and Colombia. These people have been caretakers of the Amazon rainforest and their practices with plant medicine are ment to commune them with the ecosystem.
We only work with the highly experienced Shipibo healers Maestro Francisco  and Maestra Tessy from Yarina Cocha District, Ucayali Region, Peruvian Amazon. We are connected with several powerful family lineages who have generations and decades of experience working and training with this medicine, such that they are able to safely and effectively hold space for our guests during ceremony. Our facilitation team has combined years of holistic terapies experience and facilitating ceremony for many guests.
Shipibo ayahuasca brew is made with only the two main ingredients, ayahuasca vine and chacruna leaf, and is cooked in the village of one of our healers in Peru.
We organize ceremonies in a large place, a covered wooden structure,  surrounded by luxuriant plants. During ceremony, guests have their own mattresses, placed in a circular space, with their own pillows, blanket, and buckets in case the need to purge arises during ceremony. There are bathrooms just outside of the structure, and our facilitators are on call to help guests if they need any assistance.
Shipibos use flutes, Icaros, Mapacho (holy tobacco), Rapeh, Sananga and Floral water. We work with Maestro Francisco Ventura Garcia and Maestra Tessy Ventura Sanchez during the Ayahuasca ceremony, as well as two facilitators, for a group size of 15 guests.
Cacao Ceremony is facilitated by holistic therapist Sandra,  and Kambo Ceremony is facilitated by Sandra and Robert, kambo facilitators. Our Kambo medicine is sourced directly from the Katukina tribe in Brasil. The process of harvesting Kambo medicine is a very gentle process, where the frog is not injured in any way. The secretion on the back of the frog is taken with a wooden stick, by a gentle movement, honoring the beautiful spirit of Kambo.
Leader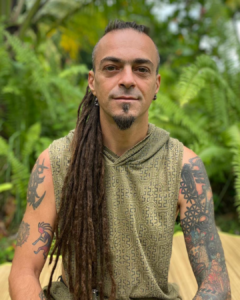 Robert Tentiu
Founding Partner | Kambo Facilitator | Shipibo Konibo Healer Apprentice Originating in Bucharest, Romania, he has spent many years producing music and hosting psychedelic artistic events and gatherings. Coming from the realms of sound design, he is a multi disciplinary artist passionate about healing and sacred plant medicine. Called by the spirit of Kambo, he became a practitioner, with the mission of guiding others, connecting with the Kambo Spirit. Robert began to develop his own skills as…
Learn more about Robert Tentiu