Escape to the Rainforest
With Karen Score and Gina Benson
October 28 - November 4, 2022
Legends say that hummingbirds float free of time, carrying our hopes for love, joy and celebration. The hummingbird's delicate grace reminds us that life is rich, beauty is everywhere, every personal connection has meaning, and laughter is life's sweetest creation.
Experience the sweet sound of the hummingbird's wings along with the multitude of magical rainforest inhabitants in this biodiverse ecosystem — monkeys, sloths, over 400 species of birds, hundreds of brightly colored and bizarre insects, frogs and butterflies! Our hope is that, by immersing ourselves in this peaceful environment with such an immense variety of intelligent life—all of which living in a state of harmony—that we, too, can learn to live in harmony with one another and ourselves.
Unplug in 250 acres of protected Primary and Secondary Rainforest, swim in the Caribbean Sea, read a book in your hammock while listening to nature's serene soundscapes. Let the sounds of the rainforest lull you to sleep at night (rather than the drone of the nightly news!), wake up to the calls of the howler monkeys at sunrise (sweeter than that annoying alarm!), enjoy locally sourced organic meals, participate in daily yoga, find time for quiet meditation, reiki or massage. While immersed in the natural world, gain an understanding of Ayurvedic principles and how this ancient science and holistic approach to healing relies solely on the natural resources Mother Earth provides us. Take a time-out for yourself while opening your heart to the company and laughter of new friends.
Ecological Adventure Excursions are also included in this rejuvenating retreat. We will visit the Jaguar Animal Rescue Center, learn about Cacao Trees and see how chocolate is made (you can try it too!), tour the Cahuita National Park, take a guided night hike, enjoy the many beautiful beaches, as well as the hospitality, love, and laughter of a local woman as she teaches us one of her favorite traditional recipes right in her own kitchen! We have also included (as always in a Grace in Nature Retreat) a Seva (volunteer) project at a local school for girls, ages 6-11. This is always one of the best aspects of any retreat: giving back!
This eight night adventure includes previously listed excursions, ground transportation, hotel/airport transfers, hotel first and last night in San Jose, six nights at Samasati Retreat Center and Nature Sanctuary, three delicious meals a day, shuttle to beach, and, of course…the opportunity to unwind, relax, reconnect, and recharge so we can return home with the capacity to live in harmony, gratitude, acceptance, abundance, and joy. Come home feeling more vibrant, relaxed, healthy and alive and armed with your newfound knowledge of the basic healing principles of Ayurveda to keep you on the right path throughout the long winter months.
PACKAGE INCLUDES:
6 nights accommodation at Samasati Nature Retreat

2 nights accommodation at a hotel in San Jose (first and last night)

Airport/hotel shuttle transfer

Welcome breakfast in San Jose

Delicious lunch stop on the way to Samasati

Transportation to/from Samasati Retreat Center

3 fresh, healthy, organic buffet-style meals daily in a beautiful, open air restaurant

Daily Yoga and Ayurvedic Practices

Guided nature trek through Cahuita National Park

Guided night hike

Shuttle service to the lively Caribbean town of Puerto Viejo and/or the many beaches

Visit to the Jaguar Animal Rescue Center

Vegan Cooking Class

Chocolate Making Tour

Seva Project at a local School for Girls (ages 6-11)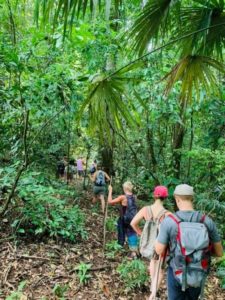 Leaders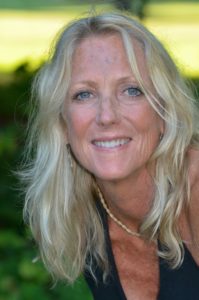 Karen Score
Karen discovered her Dharma — the joy and satisfaction of being of service to others — many years ago, back in her high school days. In college, she studied Sociology, receiving her BA from SUNY New Paltz in 1982. As a mom of two boys, she later took up many volunteer interests, including volunteer coordinating and managing the Arts in Education Program in her local school district. Through this work…
Learn more about Karen Score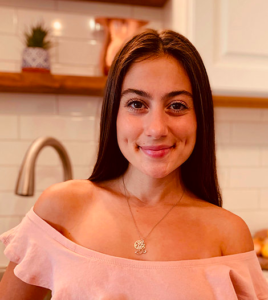 Gina Benson
Based out of NYC, Gina Benson is a Registered Yoga Teacher and certified Ayurveda Practitioner and Holistic Nutritionist. She has a deep respect for both practices and, in 2017, created Yogaveda Health & Healing with the mission to dedicate her life, studies, and career to bettering the experience of living for others. Gina's vivacious personality, gentle heart, and strong faith make her the optimal healer. With her love of Yoga and Ayurveda…
Learn more about Gina Benson